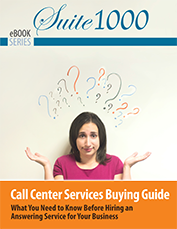 Is your company's inbound call volume out of control? You could be losing potential business and compromising your customer service if you don't get help by hiring an answering service.
Our free Call Center Services Buying Guide provides the information you need to know before hiring an answering service for your business.
In this eBook, you'll find:
Case studies of real businesses that benefited from hiring an answering service
Criteria to determine if your business is ready for an answering service
Common mistakes to avoid when looking for an answering service
Most importantly, you'll find the 3 steps you should follow to choose a provider that is right for you. We've even included questions to ask and criteria to require.
Simply complete the form to download your free copy.